Master Chief (Halo) by Morgan Durfee
image: instagram.com/nightingale_vixen/
 An amazing Master Chief cosplay by part-time model Morgan Durfee, there is nothing hotter than a hot girl in a Master Chief suit!
Maya (Borderlands) by Kyashi Cosplay
image: instagram.com/Kathyyjo__/
An absolute makeup masterpiece by Maya Kyashi.
Nico Robin (One Piece) by VampBeauty
image: vampbeauty.deviantart.com/
VampBeauty here playing pirate and archaeologist Nico Robin from anime One Piece.
SEE ALSO: Fallout 5 release date, news, trailer, rumours, story – Everything We Know So Far
[smartad id="4" align="center"]
Female Edward Kenway (Assassin's Creed) by Anna Fischer
image: flickr.com/photos/27594459@N04/
Anna Fischer dressed up as the female version of Black flag protagonist Edward Kenway.
Sole Survivor (Fallout) by Elenya Frost
image: Brazen & Bold Productions
Sole Survivor being beautifully played by Elenya Frost.
Cammy (Street Fighter) by Nadyasonika
image: facebook.com/nadyasonikacosplay
One of the most popular female character to cosplay, cosplayer Nadya Sonika gets it absolutely spot on.
[smartad id="7" align="center"]
Bayonetta (Bayonetta) by  Unknown
image: facebook.com/BennyLeePhotography/
The resemblances between Bayonetta and this unknown Cosplay model are simply incredible. 
Mario (Mario) by Brittany Windom
image: uk.pinterest.com/pin/475692779363242814/
A simple but meticulous cosplay.
Arcade Riven (League of Legends) by Adami Langley
image: adami-langley.deviantart.com/
Adami Langley making full use of her props(no sexual connotations intended) in this League of Legends cosplay.
[smartad id="8" align="center"]
Katarina (League of Legends) by Unknown
image: weeabooze.com
This unknown cosplayer perfectly recreates League of Legends champion Katarina, one of the most OP champions in the game. 
Ninja Turtle Cosplay by Amy Asen
image: instagram.com/asensasian/
Despite this looking more like a Halloween dress up then cosplay, but its still pretty hot.
Jinx (League of Legends) by Kay Thomas
image: uk.pinterest.com/Gate2Avalon/cosplayer-kay-thomas-model/
Veteran Cosplayer dressed up as Jinx from League of Legends, one of the most powerful Marksman roles in the game. 
Sole Survivor Cosplay (Fallout 4) by Amethyst Leon
image: instagram.com/amethyst_leon
Fallout 4 is a popular game to cosplay on, and we can see why. 
Stormtrooper (Star Wars) by Leeanna Vamp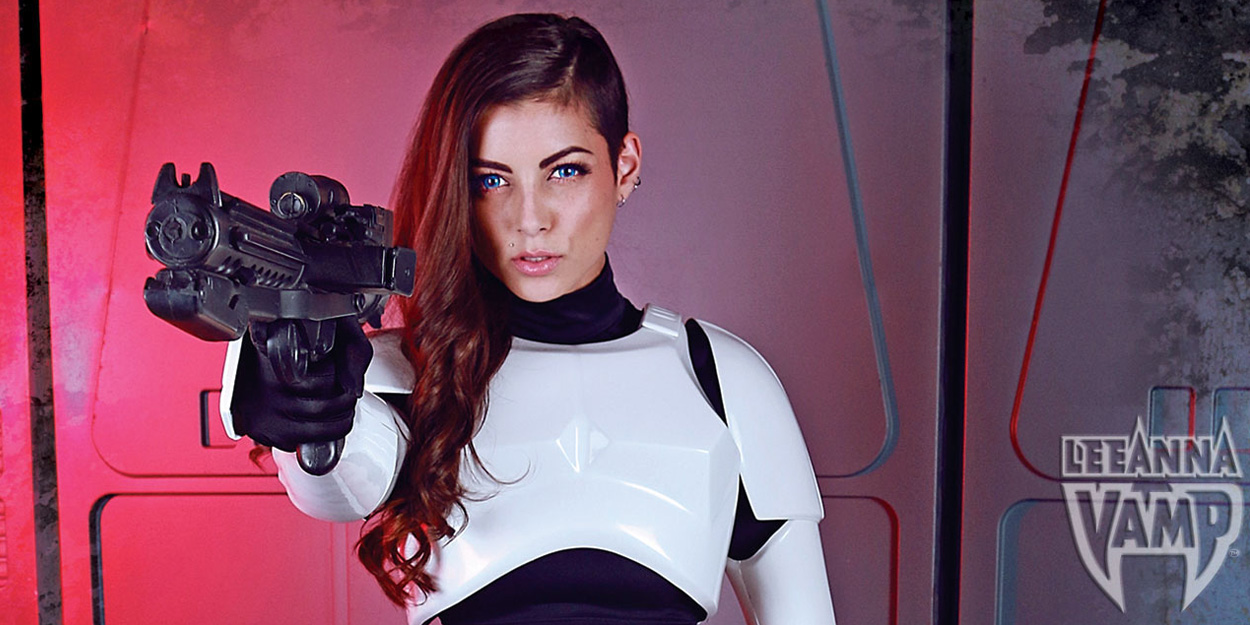 image: instagram.com/vamp
Leeanna Vamp dressed up as a Stormtrooper from Stormtrooper which can be from pretty any game from Battlefield 1 to Battlefield 3. 
Witchblade Cosplay by Jacqueline Goehner
image: instagram.com/jacquelinegoehner/?hl=en
Jacqueline Goehner here in a raunchy cosplay from American comic book series Witchblade, a story that runs around an NYPD cop called Sara Pezzini who finds the Witchblade a supernatural metal glove that bonds with its owner giving them a variety of super powers.
Spiderwoman Cosplay by Elise Laurenne
image: instagram.com/eliselaurenne
Elise Laurenne here taking the role of the evil Spiderwoman.
Black Widow Cosplay by Katyuska Moonfox
image: instagram.com/katyuskamoonfox
SEE ALSO: Top Video Games That Are Free
Katyuska Moonfox here playing fictional superhero Black Widow, the character was first introduced as a Russian spy as an antagonist in the Iron Man comic books. 
Cammy (Street Fighter) by Megan Coffey
i
image: instagram.com/starbuxx
Another Cammy cosplay here, this time by caffeine fanatic Megan Coffey, with her basic white girl username of starbuxx.
Princess Leia Cosplay by Raychul Moore
image: instagram.com/theraychul
Here we have Raychul Moore posing as Princess Leia from Star Wars. 
Harley Quinn Cosplay by Anna Faith 
image: instagram.com/annafaithxoxo
The biggest cosplayer in the world in terms of following, here we have Anna Faith with the most popular character to cosplay as in 2016, Harley Quinn. Anna Faith grew exponentially in populariry due to her Frozen cosplays.